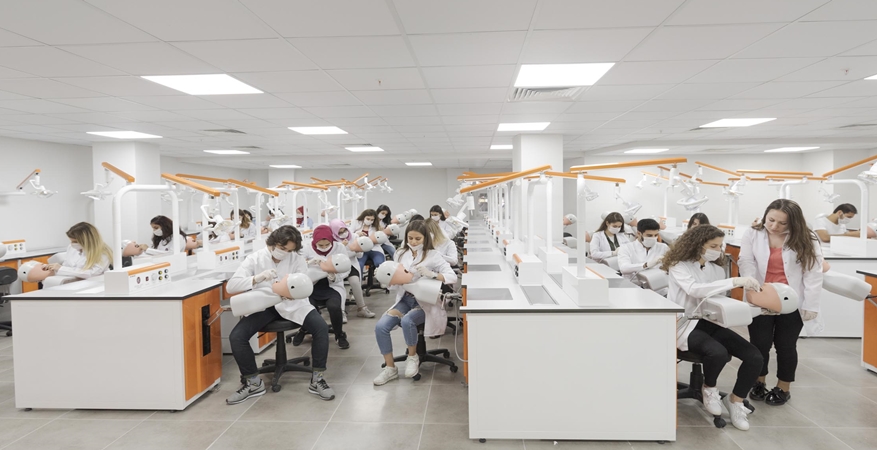 Foundation:
İstanbul Kent University Faculty of Dentistry started education and training in 2018-2019 academic year.
Mission:
To be an institutional structure, which offers dental and oral health services with a holistic quality approach, that has adopted the principle of training competent dentists and researchers with social service awareness, knowledge and practical skills at the highest level, committed to ethical rules, know professional responsibilities, follow scientific and technological innovations thanks to the education and training opportunities offered in an free environment with critical thinking.

Vision:
To be a respected and leading faculty that gives direction to science in national and international academic fields, is committed to ethical principles, prioritizes preventive healthcare services and attaches importance to continuous development.
Our Principles and Values:
• Commitment to Atatürk's principles
• Commitment to ethical values
• Defending fundamental rights and freedoms
• Perfectionism in Education and Research
• Environmental awareness
• Participation
• Innovation
Degree Awarded:
Students who successfully complete the program are awarded a Diploma in Dentistry which is equivalent to a master's degree.
Degree Level:
Dentistry is a program consisting of 300 ECTS (ECTS) credits, requiring a 5-year period of education equivalent to a master's degree.
• Committees
Executive Board
Prof. M.D. Elif Oktay Sepet
Prof. M.D. Ayşe Cansu Başeğmez
Prof. M.D. Deniz Gemalmaz
Prof. M.D. Yıldız Garip Berker
Assoc. Prof. Özgür Önder Kuşçu
Asst. Prof. Erol Küçükkeleş

Faculty Board
Prof. M.D. Elif Oktay Sepet
Prof. M.D. Halime Yegane Güven
Prof. M.D. Funda Yanıkoğlu
Prof. M.D. Sevgi Küllü
Prof. M.D. Tangül Müdok
Prof. M.D. Yıldız Garip Berker
Assoc. Prof. Özgür Önder Kuşçu
Asst. Prof. Mustafa Nevzat Çarpar
Quota and Scholarship Information
English Scholarship: 9
25% discount : 51
Total Quota: 60
Turkish Scholarship:11
25% discount: 59
Total Quota:70