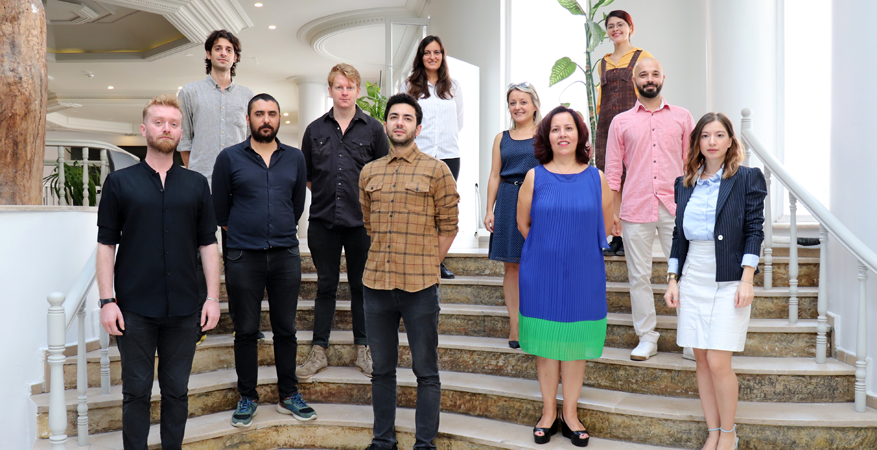 ENGLISH PROFICIENCY TEST (KELT)
KELT (KENT English Language Test) is the exit/exemption test of English Preparatory Program of İstanbul Kent University. It is given to students who fulfill the entry requirements to sit this exam upon completion of the fall and spring, and/or summer semesters. It consists of 'reading', 'listening', 'writing' and 'speaking' sections and is given in two sessions: written and speaking. The written exam, the first session, takes about three hours (180 minutes) and assesses students' reading, listening and writing skills.
The speaking exam, the second session, may be given on the day after the written exam or in the afternoon of the written exam. It takes 15 minutes. On the written exam day, students can learn their speaking exam time and venue from lists in their exam rooms. Students are expected to be in the allotted waiting rooms 30 minutes before their speaking exam time. The speaking exam time cannot be changed after the lists are shared.
Under no circumstances are students given a makeup for any missed session, even if they have a sick report or similar excuse.
Students have to have an official identity card with a recent and recognizable photograph as well as their school identification cards on exam days. If their photos cannot be recognized, test-givers can ask for another ID. Therefore, students are advised to bring an extra ID card with them.
ENTRY REQUIREMENTS FOR KELT
Newly enrolled students first sit the English Placement Test on registration day and then the names of the students whose scores are found satisfactory are sent an SMS or e-mail message. These students are invited to sit the KELT in September. The ones who cannot get the required score are placed in an appropriate level in the English Preparatory Program.
Students who have completed the B2 Level (upper-intermediate) successfully in the prep program and who have not exceeded the absenteeism limit can sit the KELT exams in January, May or July, depending on when they finish the prep program.
Reading Section
Students are given two academic reading texts and are asked to answer 20 questions, which are 1.5 points each, in 60 minutes. Students are expected to transfer their answers to an optical form in the given time. Extra transfer time is not provided. The question types for the reading tasks are multiple-choice. The reading section comprises 30 percent of the exam. For further information, please see the sample test shared in Istanbul Kent University website (academic-English Preparatory Program-KELT sample).
Listening Section
The listening section consists of two listening tasks and comprises 20% of the exam. The first listening text is a dialogue that lasts approximately 15 minutes. Students answer questions while listening. The weighting of each question is 1 point. The first listening task includes 10 questions. For the second listening task, students are required to listen to an academic lecture, approximately 13-15 minutes long, and take notes. Afterwards, they answer questions using their notes. The second listening task is 25 minutes long and 10 points in total. Extra transfer time is not given under any circumstances.
Writing Section
Students are given an argumentative writing prompt thematically linked either to the lecture or one of the reading texts. Students are expected to write an academic essay of around 300 words in 60 minutes. The essays are evaluated for organization, content, grammar and lexis. Essay grading criteria can be found in Istanbul Kent University webpage. The writing section comprises 25 percent of the exam.
Speaking Section
The speaking exam is conducted by two examiners and takes about 15 minutes. Students take the speaking exam in pairs. Students' speaking exams are recorded according to exam regulations. The exam is composed of three parts. In the first part, students are asked general questions about their lives. In the second part, each student speaks for about 1 minute answering a question about an academic subject. In the third part of the speaking exam, students discuss an agree/disagree prompt with their partners. One student agrees, the other disagrees, and the speakers attempt to persuade each other while refuting the opposing viewpoint. This discussion may last for six minutes. Students' speaking performance is assessed considering language use, delivery, content and communication. For further information, please check the criteria shared in the website. The speaking strand comprises 20 percent of the exam.

READING SECTION
30 %

READING TEXT 1: about 1100 words, 10 questions

READING​​ TEXT 2: about 1500 words, 10 questions

Total: 60 minutes

LISTENING SECTION
20 %​​

LISTENING 1 (While Listening): 10 questions, 15 minutes

LISTENING 2 (Note-taking): 10 questions, 25 minutes

Total: 40 minutes

WRITING SECTION
25 %​

Argumentative Essay Writing: 300+ words

Total: 60 minutes

SPEAKING SECTION
20 %

Part 1: Interview with the examiner, general questions about everyday topics, (2 minutes total)

Part 2: Monologue, answering an academic question for 1 minute, (4 minutes total)

Part 3: Discussion with the other examinee, a discussion prompt, (8 minutes total)

Total: about 15 minutes​
GRADING AND SHARING EXAM RESULTS
Students whose KELT scores are 60 or above (for Psychology Department- 75 and above) are eligible to start their departmental studies. The results are announced as letter grades A, B, C or F based on students' scores. 100-85 is equivalent to an A, 84-70 is a B, and 69-60 is a C. Any grade below 60 is an F. KELT results are announced via messages to students' school e-mails.
OBJECTIONS TO THE STEP RESULTS
Students can object to their grades within five working days after they are announced. These students need to complete, sign and hand in to the prep program an objection form available on the website. A signed copy of the objection form could also be sent to [email protected]. The results of the objections will be finalized within two working days and sent to the addressee via e-mail.
INTERNATIONAL EXAMS ACCEPTED
Students who request to be exempt from the English Preparatory Program can inform the Student Academic Affairs Office on condition of their certified proficiency in English. This is necessary to satisfy İstanbul Kent University's language requirements. All applications must be submitted along with a signed written form at least one month before faculty classes start. These exams are valid for two years.