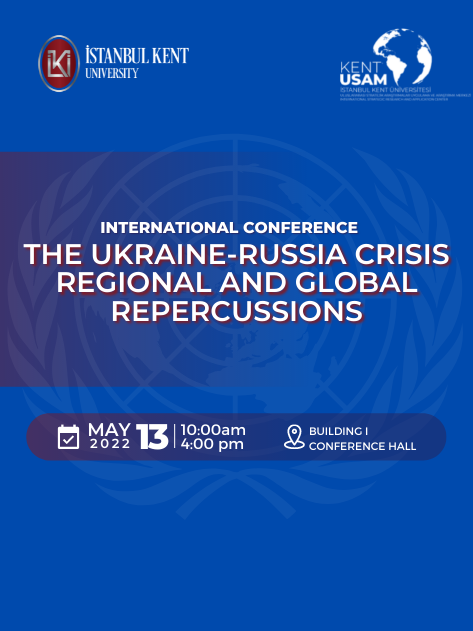 International Conference
Tarih : 13.05.2022
İstanbul Kent Üniversitesi Uluslararası Stratejik Araştırmalar Uygulama ve Araştırma Merkezi (KENTUSAM) çatısı altında, 13 Mayıs 2022 Cuma günü saat 10.00-16.00 arasında, Üniversitemizin konferans salonunda, "The Ukraine-Russia Crisis: Regional and Global Repercussions" başlıklı uluslararası konferans düzenlenecektir. Bu bilimsel etkinliğe, alanında uzman akademisyenler, diplomatlar ve gazeteciler katılım sağlayacaktır. Ukrayna-Rusya krizinin bölgesel ve küresel yansımaları; siyasi, askeri, ekonomik, sosyal ve kültürel bakış açılarından ayrıntılı olarak incelenecek ve değerlendirilecektir. Uluslararası konferansımızın; bilim insanlarına, öğrencilere ve karar alıcılara faydalı olması beklenmektedir. Mevcut krizin dinamikleri ve yaratacağı sonuçlar hakkında bilgi edinmek isteyen herkes panelimize davetlidir.
Under the auspices of Istanbul Kent University International Strategic Research and Application Center (KENTUSAM), an international conference, entitled "The Ukraine-Russia Crisis: Regional and Global Repercussions," will be held on Friday, May 13, 2022 between 10:00am-4:00pm in our University's conference hall. Academics, diplomats, and journalists, who are experts in their respective fields, will participate in this scholarly event. The regional and global implications of the Ukraine-Russia crisis will be examined and assessed at length from political, military, economic, social, and cultural perspectives. We expect our international conference to be of value to scholars, students, and decision-makers. All those who are willing to learn about the dynamics of the present crisis and its aftermath are invited to our panel.
The Ukraine-Russia Crisis Regional and Global Repercussions
Friday, May 13, 2022
10:00am-4:00pm
Building I Conference Hall
Opening Remarks: Prof. M. Necmettin Atsü, M.D., Rector, Istanbul Kent University
Panel I: The Origins of the Ongoing Conflict
Moderator: Emre Atsü, International Relations Representative, Istanbul Kent University
• Prof. Yaşar Onay, Istanbul University
Quo Vadis Russia?
• Prof. Hall Gardner, The American University of Paris (Online)
The Genesis of the Russo-Ukraine War in 2022
• Ambassador (R.) Prof. Ali Engin Oba, Çağ University
The Ukraine-Russia Crisis in the Light of Diplomatic Studies
• Dr. Ahmet Sapmaz, International Security and Strategy Specialist
Evaluation of the Russia-Ukraine War in Terms of Principles of War
• Okay Deprem, Journalist & Businessperson (Online)
Historical, Political and Ethno-Cultural Dynamics behind the Current Military Operations of the Russian Federation
Panel II: Economic, Military and Political Repercussions of the Crisis
Moderator: Emre Atsü, International Relations Representative, Istanbul Kent University
• Prof. Sedat Aybar, Bahçeşehir University
The Nature and Effectiveness of Economic Sanctions against Russia
• Prof. Herbert Reginbogin, The Catholic University of America
• The Statecraft of Neutrality Challenging the Regional and Global Repercussions of the Ukrainian-Russian War
• Prof. Hasan Ünal, Maltepe University (Online)
Turkey's Changing Posture on the Russia-Ukraine Crisis
• Dr. Onur Sabri Durak, Shanghai Jiao Tong University (Online)
Revisiting the Montreux Convention during the Russian-Ukrainian Crisis
• Prof. İbrahim Sirkeci, International Business School Manchester (Online)
War in Ukraine: Why Another Refugee Crisis?
• Prof. Deniz Yükseker, Istanbul Kent University
Refugees from Ukraine: a Comparison with Refugees from Syria
Organizing Body: Istanbul Kent University Strategic Research and Application Center (KENTUSAM)
Organizing Committee:
• Prof. Hasret Çomak, Dean, Faculty of Economic, Administrative and Social Sciences, Istanbul Kent University / Director, KENTUSAM
• Emre Atsü, International Relations Representative, Istanbul Kent University / International Relations Coordinator, KENTUSAM