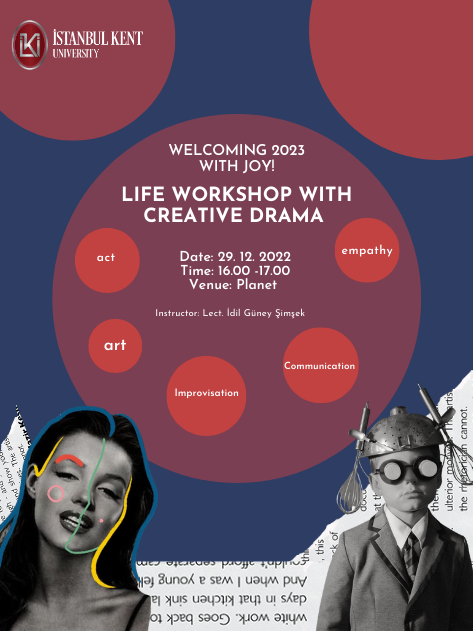 WELCOMING 2023 WITH JOY!
Tarih : 29.12.2022
LIFE WORKSHOP WITH CREATIVE DRAMA
Date: 29. 12. 2022
Time: 16.00 -17.00
Venue: Planet
Coordinator: Dr. Murat Can Pehlivanoğlu
Instructor: Lect. İdil Güney Şimşek
The workshop is open to all students of our university and participation is limited to 30 students.
For registration, submit your name, surname and department to idil.guneysimsek@kent.edu.tr.
Creative drama is a field of education and art with its own elements. The concept of creative drama, which is considered as "Game Pedagogy" in Germany and "Drama in Education" in England, is a rehearsal of life that uses theater techniques, includes play-like processes and improvisations, and is active in the body and the five senses. With the workshop, it is aimed to create fictional realities that the individuals who make up the group "as if" based on their own experiences, and to have the knowledge that our students can integrate into their personal and professional lives with the motto of drama "learning by doing and experiencing". Thus, it is aimed to contribute positively to skills such as creativity, imagination, communication, empathy, self-confidence and in-group solidarity.